The 4 Most Important Customer Experience Metrics
Customer experience measurement has reached mainstream acceptance. But one of the most hotly-debated questions when discussing customer experience measurement remains: "What Customer Experience metrics should I measure?".
To clarify what I mean by a 'Customer Experience metric' this is my definition: 
"A Customer Experience metric is a self-expressed measurement of your visitors' and customers' perceptions when interacting with your brand in context of their current and future intentions."
While there's no shortage of different metrics that can be used as part of an effective customer experience program, it's important to consider your own business objectives and how specific metrics will help inform your business strategy. However, there are a few key metrics that you should consider to get any CX program off the ground.
In this post, I will leverage my 20+ years of hands-on experience to take you through four of the most-widely used and helpful CX metrics you need to measure and the best ways to collect them to ensure accurate and consistent results:
Disclaimer: As my grandfather would say, "There's more than one way to fillet a fish". My insights should serve as a guide but, obviously, there are different ways these metrics can be implemented successfully.  
Overall Satisfaction
Overall Satisfaction is an essential metric to measure and manage the customer experience over time. If you are not measuring customer satisfaction of the overall experience already as part of your CX program, you should start right away.
This metric provides a baseline measurement of your CX performance and tells you how your visitors and customers feel about your brand in general. This can give you a great sense of what they might do next and help you align priorities at an organization level.
For example, a dissatisfied customer may consider switching to one of your competitors if it would guarantee them a more satisfactory experience. On the other hand, a satisfied customer might provide you with insights on what works and the what aspects of the experience have the greatest impact on their satisfaction.
How to collect Overall Satisfaction 
Traditional customer satisfaction research dates back to the mid 1960's. In the late 1990's, with pioneers like my mentor, Dr. Max Garfinkle and his diagnostic solution the Capability Snapshot, online research methodologies were introduced that provide a great way to collect digital customer experience metrics.
To evaluate the customer experience, I prefer to use an Overall Experience question because it provides the ideal dependent variable for multiple regression analysis to determine the impact of different items on a visitor's overall satisfaction.
The construction I favor for this question is the following:
"How would you rate your overall experience today?"
There are many opinions about the scales to use to measure overall satisfaction, all which are fiercely held. I prefer a 0-to-10 numeric scale with six offset labels for collecting feedback on satisfaction. The offset labels reduce text and numeric bias, while the extreme positive point (labeled 'Outstanding') is set apart to reduce the positive skew associated with scales that use 9 or more points. Here's an example:

iperceptions research has shown that this scale produces results with closer to normal distribution than scales using 9 to 11 points with end-point labels and scales that use direct 1-to-1 labels. Given that one of the main assumptions of most statistical analysis is normal distribution of data, statistical results from using this scale produce more reliable and reproducible results.
Net Promoter Score®
Net Promoter Score (NPS®) provides a read on how your customers feel about your company. It is a customer loyalty metric developed by Fred Reichheld, Bain & Company that was introduced by Reichheld in his 2003 Harvard Business Review article "One Number You Need to Grow".
One of the biggest advantages of the NPS is its simplicity, while still being relevant to all levels and functions of an organization. This is why NPS has become a mainstream metric for companies to measure. Also, it has been shown to be a good indicator of overall company performance, and provides a great way for you to segment your data to determine what drives your customers to recommend you to their peers.
Some of the clients I have worked with have successfully used the NPS metric as a beachhead, eventually leading to the adoption of a more sophisticated metrics and a data-driven culture that permeates throughout the organization. If you need a starting point, a single metric to spearhead your CX program, consider the NPS.
How to collect the Net Promoter Score
The Net Promoter Score is derived from asking the following question:
"How likely is it that you would recommend [brand] to a friend or colleague?"
The most accepted method for collecting NPS is using a 0 to 10 scale with end-point labels, as shown in the example below:

To calculate your NPS, respondents are grouped into the following categories:
Promoters (score 9-10) – Loyal enthusiasts who will keep buying and refer others, fueling growth 
Passives (score 7-8) – Satisfied but unenthusiastic customers who are vulnerable to competitive offerings. 
Detractors (score 0-6) – Unhappy customers who can damage your brand and impede growth through negative word-of-mouth.
By subtracting the percentage of Detractors from the percentage of Promoters, you arrive at your Net Promoter Score, which can range from a low of -100 (if every respondent is a Detractor) to a high of 100 (if every respondent is a Promoter).
NPS is not without its limitations and critics. However, it remains a useful and simple metric that can be easily implemented.
Visitor Intent
Digital touch points are the most measurable sales and service channels, with huge amounts of data already existing on what visitors are doing on desktops, mobiles and tablets. Behavioral web analytics is a well-recognized form of measuring performance and provides valuable decision support to help optimize online channel offerings.
However, behavioral metrics like 'pages visited,' 'time on site' and 'conversion rate' provide little insight into the hearts and minds of customers. What's missing is the insight gained by listening to actual visitors, as only they can provide the 'why' behind the 'what'.
Uniquely, your customers can confirm with certainty what they came to your website or mobile app to do, as well as provide feedback in the context of those intentions.
The introduction of 'Visitor Intent' as a key customer experience metric represents a ground shift in satisfaction research. It opens the door for more targeted segmentation, especially when integrated with your web analytics or session replay tool. Visitor Intent provides a clearer view of your visitors' needs and expectations, moving away from periodic and expert analysis of satisfaction studies and towards the ongoing data-driven world of digital analytics.
How to collect Visitor Intent
To collect Visitor Intent, consider using a 'Purpose of Visit' (PoV) question:
"Which of the following best describes the primary purpose of your visit today?"
A 'single-select' format is preferred for the response. Avoid the use of 'multi-select' options for the response, as this defeats clear segmentation and complicates analysis with no real benefit. The main goal is labeling visitor behavior with their stated intent exposing the 'why' behind the 'what' of behavioral web analytics.
The number of possible responses to a single-select question is ideally 6 or less. More choices require too much effort by the respondent and can make it difficult for them to clearly identify and easily choose the appropriate answer.
Below is an example of a PoV question that meets these criteria: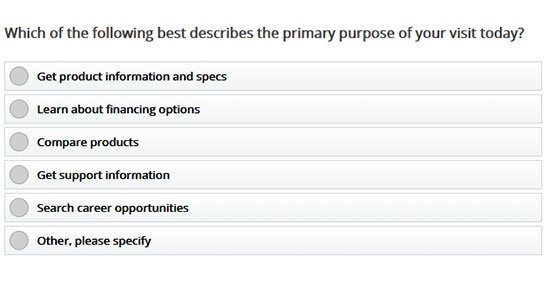 Task Completion
Like Visitor Intent, behavioral data often doesn't tell you the whole story about whether your visitors actually accomplished everything they wanted to do on your website. There's often more at play than what we can see in behavioral data, and Task Completion is a CX metric that clarifies whether your visitors' session was actually a success.
Since it accurately separates successful visits from unsuccessful ones, Task Completion makes it easier for you identify the causes of unsuccessful visits, especially when you pair this metric with Visitor Intent. It also provides a great way to measure the success and ROI of any website changes you make, especially if you are going through a major website redesign.
Avinash Kaushik brought attention to the need to measure Task Completion, as well as Visitor Intent, within digital analytics in his blog post, "The Three Greatest Survey Questions Ever".
How to collect Task Completion 
For the metric 'Task Completion', I recommend a binary response of Yes or No like in the example below:

I am not a fan of 'Partially' as an option, as this generally muddies the waters and introduces additional subjectivity with no increased insight. Labeling customer behavior with 'Failed Task Completion' provides a strong signal within the behavioral data that allows web analysts to easily isolate and identify issues that need to be addressed.
More Customer Experience Metrics You Should Consider
In this post, I've taken you through four essential customer experience metrics that should be the foundation of any CX program. Here are a few more CX metrics you could consider that can shed even more light into the minds of your visitors, and get more insights into your customer experience:
Customer Effort Score
Just because your visitor's session may have been a success, it doesn't mean that it was an easy one. A difficult customer experience may cause your visitors to search out more simple options (e.g. competitors) in the future, and so being able to identify "difficult" sessions and the causes of these headaches can prove invaluable.
Purchase Horizon
A visitor's intentions may be different depending on the time frame in which they plan to make a purchase. For example, someone just starting out their search for a new car may only be looking for more high-level information than someone who is planning to purchase next week. Being able to segment your users into different 'purchase horizon' groups can provide lots of insights into their different behaviors.
Next Steps
Once your visitors leave your website, there is no way to know for sure what they will do next, whether that might be buying your product in-store or going to your competitor's website. Collecting this metric can also enable you to determine what aspects of your website experience may drive your visitors to take certain actions after their visit.
Turning metrics into action
Customer experience metrics are a key foundation of any customer experience program, but just storing and hoarding results will not have any impact on the experience. They not only need to be shared and easily-accessible to key stakeholders in your organization, but they should also be reviewed regularly by an assigned group of CX champions at your organization (a governance committee) to discuss their implications, and what your organization can do to continuously meet your visitors' needs and expectations.
It is only when the results move to inform decisions and start being used to personalize the experience in real-time that metrics can improve the customer experience and ultimately, increase loyalty and retention.
Astute's technology helps you measure and improve the customer experience across channels and devices. Learn more in a personalized demo.
This article was originally published on iperceptions.com, and written by Duff Anderson, Co-founder of iperceptions.
* NPS, Net Promoter & Net Promoter Score are a registered trademark of Fred Reichheld, Satmetrix, and Bain & Company.
Top image source: PicJumbo